Founded in 1983 by the three Maduzzi brothers as a small family business, POLIPLAST has evolved over time specializing in the transformation of foam flexible polyurethane and foam polyethylene, making diversification its strong point and coming to occupy a relevant position in the sector with more than 25 employees and a main office of over 5000sq indoor.
Over thirty-five years of experience in the polyurethane and polyethylene foam sector, continuous technological investments and the intuition of the three founding members, today allow the company to fully satisfy every customer's need with professionalism and efficiency, ranging in different application areas: furniture, packaging, sound absorption, boating, automotive, physiotherapy and sport-games-leisure accessories.
1983 – Gianni, Giorgio and Stefano Maduzzi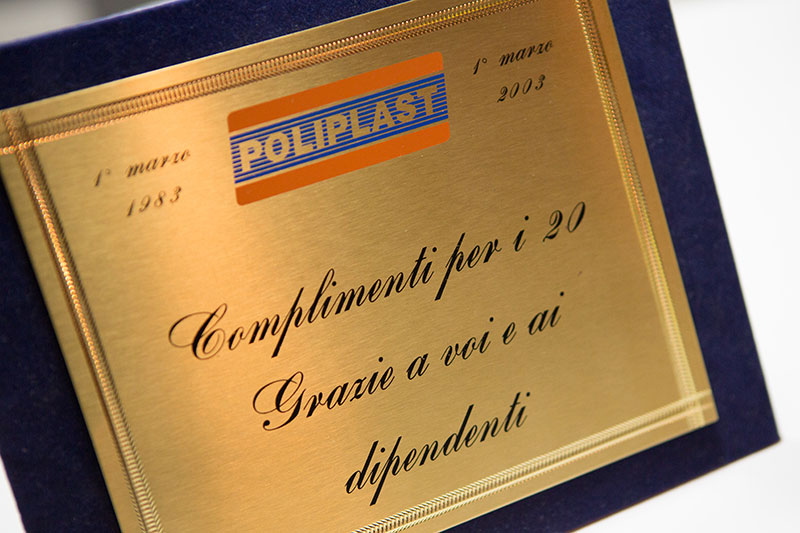 2003 – The 20th anniversary
2016 – The five Maduzzi partners
Relevant remains the furniture sector, from which POLIPLAST started by creating upholstery for living rooms for third parties, but over the years it has evolved focusing mainly on the contract sector, producing seats for conference rooms, auditoriums, universities, cinemas, theaters, hotels, public spaces in general, as well as upholstery for hairdressers and beauty centers.
During the years, the furniture sector is remained relevant for POLIPLAST but at the same time the packaging sector has constantly increased becoming more and more important. POLIPLAST has gained a leadership position in packaging, becoming not just a supplier for its customers, but a partner capable of providing support in the design of tailor-made solutions.
The main customers of the company are, in fact, primary packaging manufacturers such as plastic cases, wooden cases and cardboard boxes, for which POLIPLAST realize shaped interiors in  polyurethane and polyethylene foam in order to protect the contents from collisions and external agents during transport and handling.
Quality, flexibility, cutting-edge technology joined together with specialized manpower have allowed POLIPLAST over time to expand its target customers, arriving to serve companies operating in different sectors that need customized packaging solutions.
Requests come from technical sectors, such as biomedical, measuring instruments, tools, drones and photography and even from luxury and design sector, for which POLIPLAST creates packaging for perfumes, jewelry, weapons, footwear, complements of furniture, etc.
Satisfy the needs of so different customers requires solid design skills, good knowledge of materials, extreme precision in finishes and wide variety in manufacturings achievable.
The family aspect remains a very important strength, but the gaze is turned towards the future, in which the second generation will have the challenge of adding something more to what has been built so far.